Interface: Freight Truck Vehicle - CRAA Freight Operations Center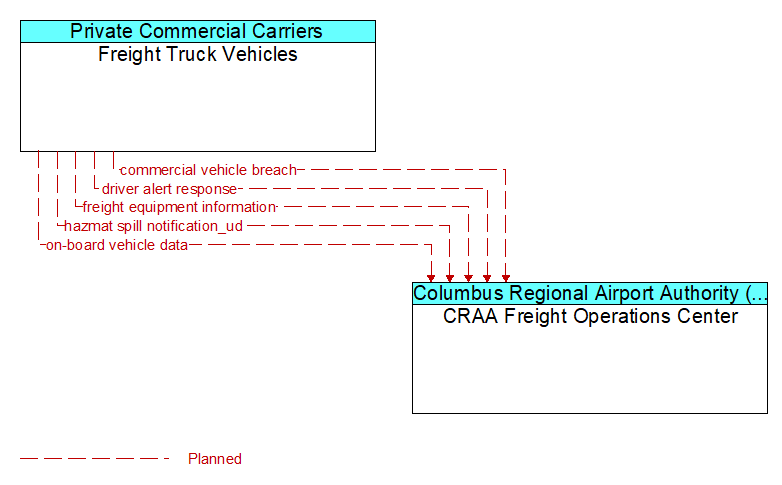 Architecture Flow Definitions
commercial vehicle breach (Planned )
Information about a breach or tamper event on a Commercial Vehicle or its attached freight equipment which includes identity, type of breach, location, and time.
driver alert response (Planned )
Commercial Vehicle Driver response to a breach alert for a Freight Equipment breach or tamper event.
freight equipment information (Planned )
Container, trailer, or chassis information regarding identity, type, location, brake wear data, mileage, seal #, seal type, door open/close status, chassis bare/covered status, tethered / untethered status, Bill of Lading, and sensor status.
hazmat spill notification_ud (Planned )
This data flow is used by the on-board cargo monitoring equipment package to contact emergency response organizations when the cargo sensors detect a release of hazardous material. This information will include the vehicle location discussed above as well as identifying the carrier. The information may be provided as a response to a real-time query or proactively by the source.
on-board vehicle data (Planned ) Applicable ITS Standards
Information about the commercial vehicle stored on-board (for maintenance purposes, gate access, cargo status, lock status, etc.).
on-board vehicle request (Planned ) Applicable ITS Standards
Request for on-board vehicle data.