Interface: Connected Vehicles - Connected Vehicles Roadside Equipment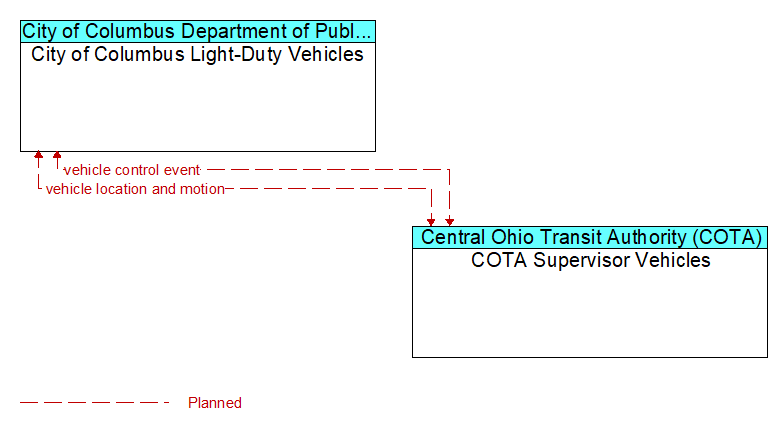 Architecture Flow Definitions
automated vehicle control data (Planned )
Instructions and control parameters for automated vehicle operation including current system conditions and advisories, control parameters (e.g., speed and performance profiles, headways), maneuver coordination, and check in/checkout instructions.
automated vehicle status (Planned )
Data provided by an automated vehicle identifying it's current mode and operational status, current position and motion, preferred route, and information provided to support checking/checkout and coordinated maneuvers while on the automated facility.
intersection status (Planned ) Applicable ITS Standards
Intersection status including current operational status, signal phase and timing information, intersection geometry, surface conditions, warnings of potential violations or hazardous conditions, and approaching vehicle information. This may include information about the position, velocity, acceleration, and turning status of approaching vehicles.
roadway safety data (Planned ) Applicable ITS Standards
Information about potential safety hazards in the vehicle path such as stalled vehicles, wrong way drivers, debris, or standing water.
vehicle intersection safety data (Planned ) Applicable ITS Standards
Vehicle path and acceleration data provided by vehicles approaching or occupying an intersection. It identifies the intersection, vehicle position and motion, the anticipated lane and movement that will be used in the intersection, and notification of potential violations or other detected safety hazards.
vehicle safety data (Planned ) Applicable ITS Standards
Vehicle safety data indicating vehicle location, vehicle motion (speed, heading, acceleration), vehicle control (brakes, steering, throttle, exterior lights), basic vehicle characteristics (length, width). May also include additional vehicle status (e.g., anti-lock brake activation, stability control system activation).