Air Quality Awareness Week to Take Place April 30 – May 4
Having good air quality is important no matter where you are. The Mid-Ohio Regional Planning Commission (MORPC) will highlight that message during National Air Quality Awareness Week.
Air Quality Awareness Week will take place April 30 to May 4. With the theme of "Air Quality Where You Are," MORPC and many like-minded organizations across the country will draw attention to the steps people can take in their everyday lives to reduce their contribution to air quality pollution.
Some individuals are particularly sensitive to air pollutants, including children and adults who are active outdoors, the elderly, and those with chronic respiratory diseases such as asthma.
Ground-level ozone is a colorless, odorless gas produced when emissions from vehicles, lawn equipment and industry combine in the presence of sunlight. Particle pollution is a mixture of solids and liquid droplets that vary in size, and its sources include motor vehicle exhaust, power plants, and industrial facilities.
For many years, MORPC has issued daily air quality forecasts for ozone and particle pollution and notified the public when pollution levels have become unhealthy for sensitive groups of people.
MORPC uses the national air quality index (AQI) scale to inform the public about daily ozone and particle pollution levels in Central Ohio. The higher the AQI value, the greater the health concern. When levels reach above 100, air quality is considered to be "Unhealthy for Sensitive Groups." MORPC issues an Air Quality Alert to the public when pollution levels reach 101 or higher.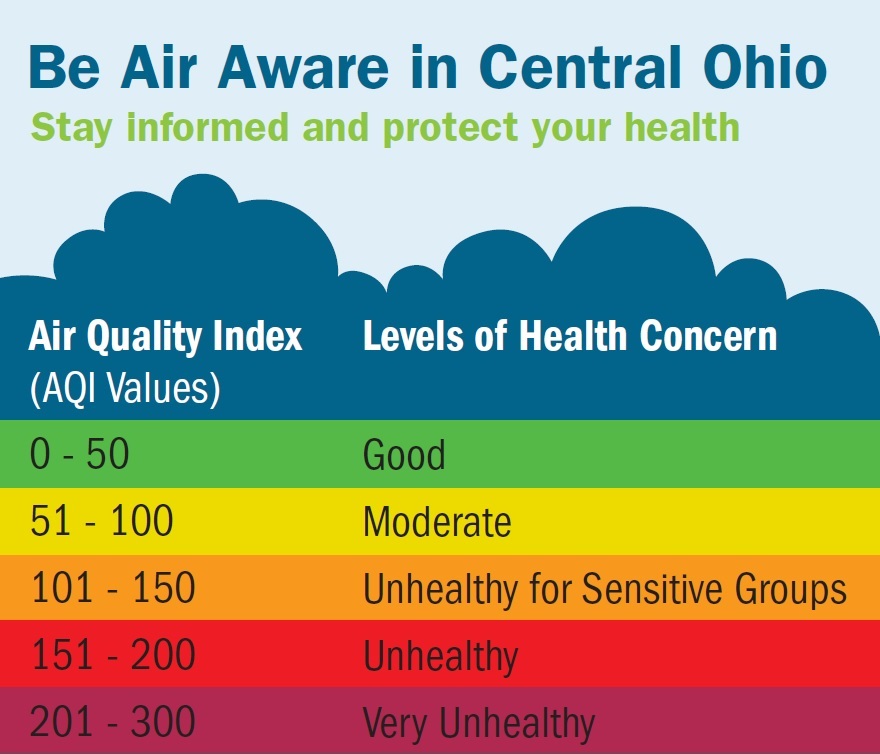 Central Ohio residents can sign up online to receive Air Quality Alert notifications delivered by text or e-mail, or they can call MORPC's toll-free air quality hotline at 1-888-666-1009 for the latest forecast in planning their day to reduce exposure to air pollution.
MORPC encourages those in the region to consider alternative ways of commuting such as carpooling and taking the bus. With MORPC's Gohio Commute, residents can explore the many commuting options available in Central Ohio.  Other simple actions to take include not idling your vehicle, refueling after dark, and avoiding the use of gas-powered lawn equipment on Air Quality Alert days. Pollution levels are generally lower during morning hours, making then a better time for outdoor activities.
Keep an eye on MORPC's social media platforms for daily posts during Air Quality Awareness Week.