Central Ohio Moving Forward with Active Promotion of Trails
With 2018 designated by the Ohio General Assembly as "Ohio's Year of the Trails," this is the perfect time for Central Ohio Greenways to be moving forward with its vision for the future.
The Ohio Senate and Ohio House of Representatives recently passed a resolution to honor the many great trail systems across the state, as well as to highlight the benefits they bring and to encourage residents to use them.
In and around Columbus, Central Ohio Greenways (COG) is a regional trail network spanning over 230 miles, connecting Central Ohio to other parts of the state and country. These trails are traveled more than 12 million miles annually – providing economic, quality of life, and health benefits to the community.
The COG Board, a committee of the Mid-Ohio Regional Planning Commission, was established in 2015 to help fulfill the vision of our region having a world-class network of trails easily accessible to every Central Ohioan. The board seeks to increase the number of people using the trail system through trail network expansions, increased programming, improved branding and marketing, and new partnerships.
"From 2014 to 2017, Central Ohio experienced a consistent increase in trail usage. With the region expected to grow by up to one million people over the next 30+ years – bringing an increased demand for more walkable neighborhoods and transportation options – trails have become a critical element for providing a high quality of life to a diverse population."
MORPC Planning & Environment Director Kerstin Carr
A best practices report that looked at seven other regions across the United States provided recommendations to the COG Board related to marketing, trail development, programming, and partnerships. One of the recommendations was the need for an expanded and better-connected regional trail network.
Over the past two years, the board has been developing a regional trail vision map through extensive community collaboration. This vision map identifies a community supported desire to add more than 500 new trail miles to the existing regional trail network so that areas in both rural and urban neighborhoods can be fully connected.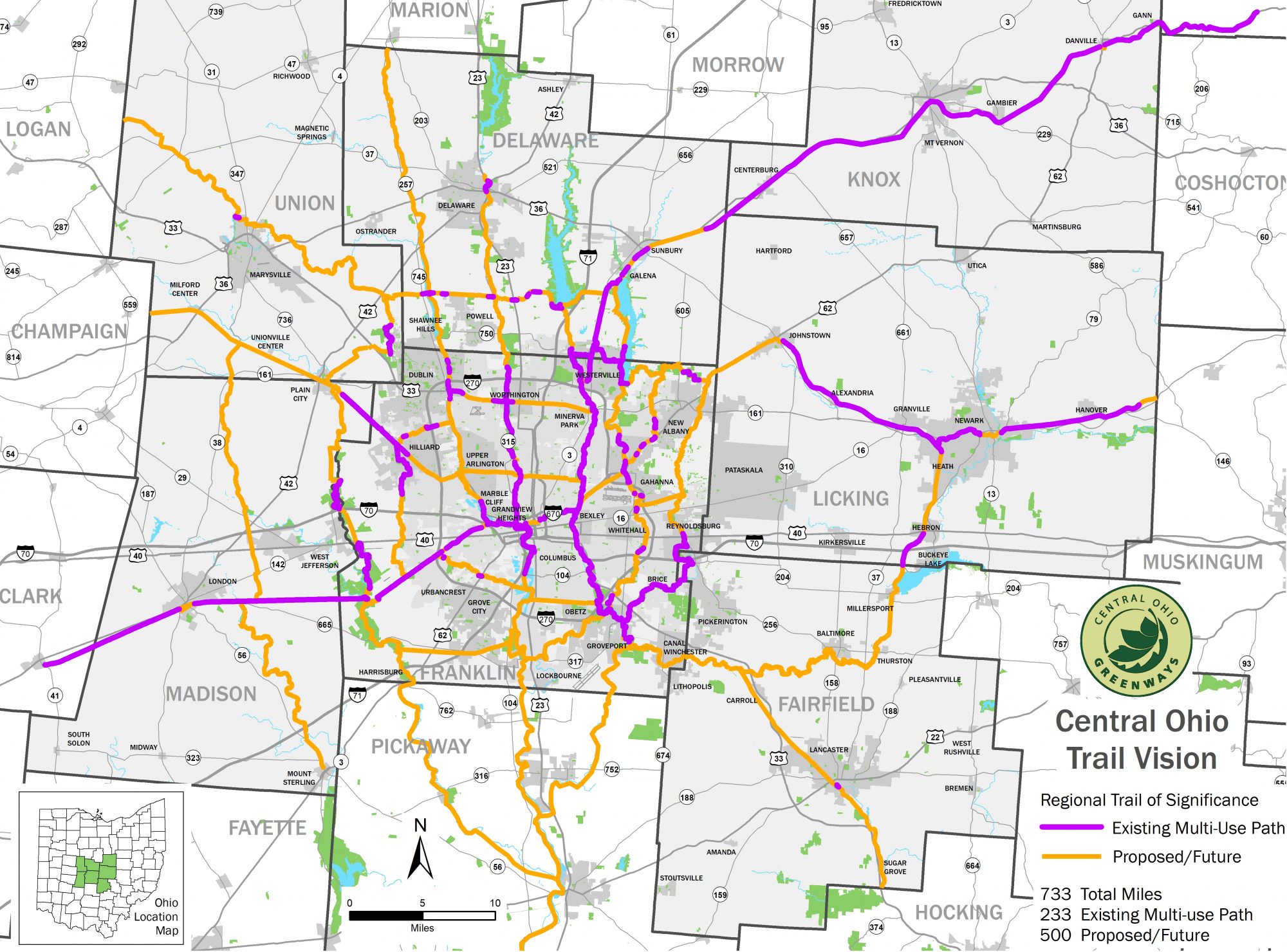 Trails of regional significance are defined as primarily off-street pathways that are multi-jurisdictional in nature, are part of a larger Central Ohio trail network, and connect people to major destination points. These are improved trails that can be used for recreational and transportation purposes. The COG board's next steps are to better understand accessibility by neighborhoods to these trails and prioritize the system based on need and land use.
The COG Board, MORPC's Sustainability Advisory Committee, and the MORPC board recently adopted the Central Ohio Greenways Regional Trail Vision Map, and they have recommended that it would guide trail priorities in the region.
To facilitate implementation of the Regional Trail Vision Map, the COG Board has also created trail design standards and trail signage guidelines, which are available on COG's website, along with the Regional Trail Vision Map. Residents who like to bike are also encouraged to use MORPC's most recent Columbus Metro Bike Map to find their way around.