Insight2050 Corridor Concepts Moving Ahead with Input from Local Officials
The insight2050 Corridor Concepts study received a boost forward as representatives from various local governments, businesses, real estate development, and other organizations associated with the five corridors being studied recently gathered for the first project working group meeting.
Insight2050 Corridor Concepts is an effort to look at current and potential future development patterns along selected major thoroughfares. The study will help Central Ohio communities understand the impact of these development patterns, as well as the relationship between the corridors and various types of high-capacity transit technologies.
"Through insight2050 we learned that compact development patterns, like infill and redevelopment, are more responsive to the changing demographics and increased market demand for smaller residences in walkable, mixed-use environments. The corridor study will allow communities to understand what that development could look like at the local level."
MORPC Planning & Environment Director Kerstin Carr
Those who attended the recent project working group meeting heard more about the study from the insight2050 Corridor Concepts co-chairs – Columbus City Council President Shannon Hardin and Steiner + Associates CEO Yaromir Steiner, who is also the chair of ULI Columbus.
Attendees had the opportunity to work closely with one another in groups, identifying key priorities for Central Ohio. Priorities included items such as increasing the supply of affordable and attainable housing and improving access to employment opportunities. Participants also marked areas they considered to have potential for development and transportation connections on a map.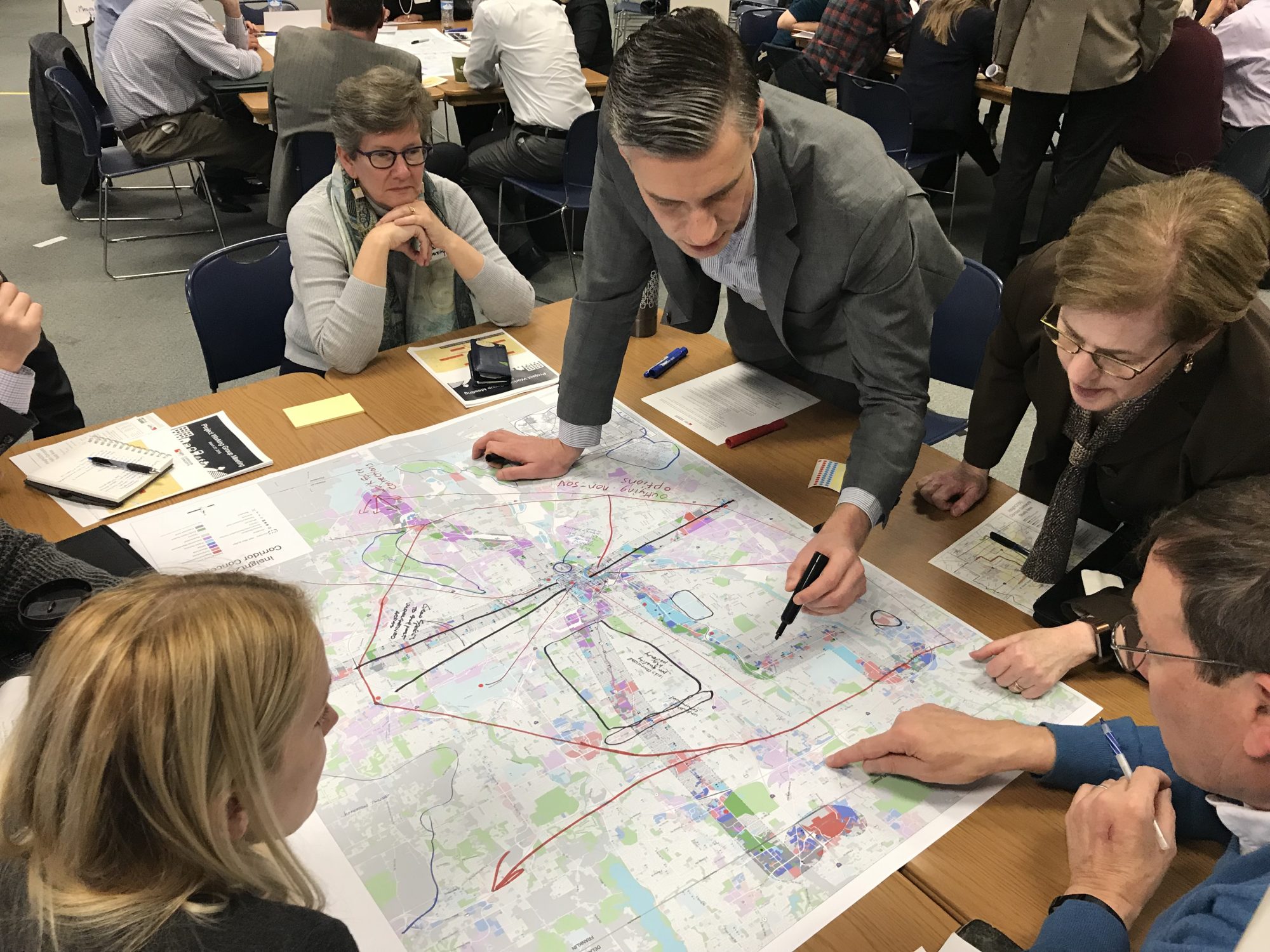 The study will offer specific implementation recommendations to promote the best-case scenario, or concept, for each corridor. It is intended to be replicable so that it may be applied to other similar thoroughfares in the future.
The five corridors being studied include:
Main Street: SR 256 to Downtown Columbus
Northeast: Polaris Pkwy to Downtown Columbus
Northwest: US 33 at Post Road /Frantz Road to Downtown Columbus
Southeast: Rickenbacker Int'l Airport to Downtown Columbus
Broad Street: Norton Road to Downtown Columbus
These routes represent a high level of development opportunity with a potential for infrastructure improvements, incentives, and other strategies in order to achieve compact development patterns.
The information from the study's project working group will supplement other work being performed by the study's steering committee, communications committee, data committee, and other various working groups along each of the five corridors.
The insight2050 Corridor Concepts study is expected to take about a year.