Tracking Progress on Regional Sustainability Made Easy
With the creation of the Mid-Ohio Regional Planning Commission's Regional Sustainability Report Card, keeping track of Central Ohio's sustainability goals is easier than ever. The report card is an online, interactive way to see how the region is meeting its sustainability objectives and whether it is on pace to reach its 2020 targets.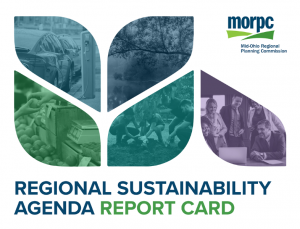 Under the guidance of MORPC's Sustainability Advisory Committee, Central Ohio has created a framework for local governments and regional partners to work toward common goals. The 2017-2020 Sustainability Agenda laid out the actions that could be taken to become a more sustainable region, and the new report card provides an update on the region's efforts to achieve  the goals and objectives.
Those who attended MORPC's annual Summit on Sustainability had a sneak peek at the report card, as MORPC Executive Director William Murdock discussed efforts, such as Sustainable2050. Murdock highlighted where the region was on track and where it can still improve.
"Our new, interactive feature will allow you to easily see if these objectives and sustainability initiatives are on target for 2020. And since we're data people at MORPC, we're using the measurements we have and presenting information in a way that provides context, is easy to understand, and will be easy on your eyes."
MORPC Executive Director William Murdock
Each sustainability objective has been given a progress rating. The first rating applies to objectives where there is no measurable change and we need to devote more resources to the objective. The second rating also applies to objectives that need more focus, but these have seen a change in the right direction. The third rating applies to those objectives that are progressing at a good pace, so we can keep doing what we're doing. And finally, the highest progress rating applies to objectives for which we have already reached our target  ahead of schedule.