We let you know when air pollution levels are high in Central Ohio and how to protect your health and your loved ones. We also work to make the air in Central Ohio safer to breathe through education and by working with local governments and businesses to reduce health-impacting emissions.
Current Air Quality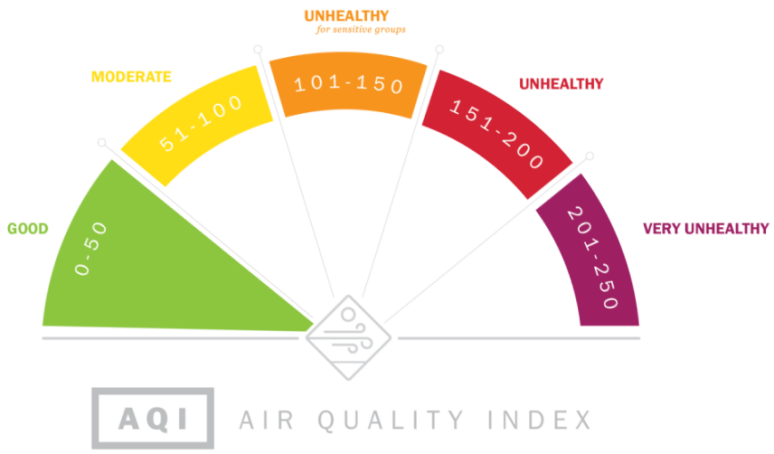 The current Air Quality for 43215 and surrounding areas is Good
Stay Informed: Air Quality Alerts and Forecasts
Get daily air quality information and protect your health.  Click here to get Air Quality Alerts or forecasts by email or text.  Or call the air quality hotline for information in English or Spanish at 1.888.666.1009.
Neighborhood Air Quality Monitoring Program
MORPC and Franklin County Public Health are partnering to establish an air quality monitoring network that will measure air pollution neighborhood by neighborhood in Franklin County. By gathering more data at the local level, this project will help guide the strategies that go into making the region's air healthier and easier to breathe. Learn more here.
Air Quality in Central Ohio
MORPC uses the Air Quality Index (AQI) to report daily forecasts and  Air Quality Alerts. The AQI tracks pollution levels in the air and tells us if the air is healthy to breathe.  On most days, air quality is in the  green or yellow range—good days to be active outside.  But on  several days each year, ozone and fine particle pollution can reach unhealthy levels,  pushing AQI levels into the orange range—unhealthy for sensitive groups.
In Central Ohio overall, air quality is improving thanks to local and national initiatives to reduce emissions.  The number of good AQI days has been increasing over time while the number of moderate and higher days has been decreasing.  The number of unhealthy for sensitive groups and unhealthy days varies from year-to-year due to differences in weather conditions and events like wildfires.