Transportation Improvement Program (TIP) Open House

March 28, 2023

3:30pm-6:30pm

MORPC
111 Liberty St
Columbus, OH 43215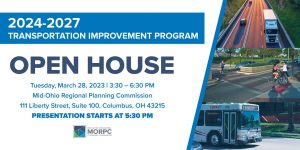 Through our Transportation Improvement Program (TIP), residents and communities can see what transportation projects in their area are receiving funding during the next four years.
Learn more about TIP and the public comment period here: www.morpc.org/tip
Parking: In MORPC's parking lot, please be sure to park in a MORPC visitor space or in a space marked with a yellow "M". Handicapped parking is available at the side of MORPC's building.
Transit: MORPC is accessible by COTA. The closest bus stop to MORPC is S. Front Street & W. Blenkner St.
Please be aware the construction on the I-70/I-71 split may affect your commute. The Front Street Bridge remains closed until 2025. The ramp from I-70 westbound to SR 315 NB will be closed for 6 months starting March 18.  The public can access SR 315 NB by taking the Rich/Town Street exit but will be prohibited from using that ramp to exit to Rich/Town. To access Rich/Town continue north and turn around at the Spring/Long exit to travel back down SR 315 to the Rich/Town exit. Check out https://www.ohgo.com/ for the latest traffic and construction updates.