Interface: Freight Operations Centers - ODOT OHGO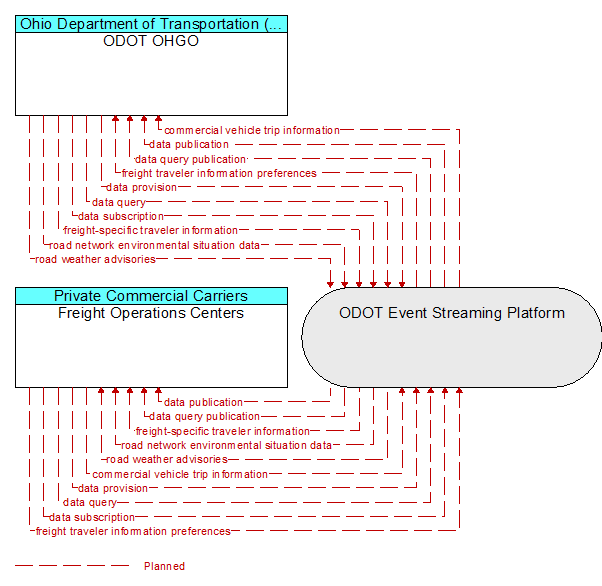 Architecture Flow Definitions
commercial vehicle trip information (Planned ) Applicable ITS Standards
Information about vehicle trips including load information, location, speed, and routing. The information would be sanitized for distribution outside of the commercial vehicle company.
freight traveler information preferences (Planned ) Applicable ITS Standards
Traveler information preferences from fleet and freight management systems or commercial vehicle drivers including: area covered by fleet/driver, types of freight managed (including special restrictions), preferred routes, other travel preferences pertaining to trip costs or tolls.
freight-specific traveler information (Planned ) Applicable ITS Standards
Traveler information customized for freight users to indicate truck routes, permit information, truck stops, inspection stations, steep grades, high–profile vehicle advisories, etc. Information provided includes freight–related road and weather conditions, parking information, and route plans.
road network environmental situation data (Planned ) Applicable ITS Standards
Aggregated environmental situation data collected from vehicles and other sources for the road network. Aggregated information would include measured air temperature, exterior light status, wiper status, sun sensor status, rain sensor status, traction control status, ALB status, and other collected vehicle system status and sensor information for the region.
road weather advisories (Planned ) Applicable ITS Standards
Segment–specific weather and road conditions including real–time advisories of deteriorating road and weather conditions, medium–term advisories for the next 2–12 hours, and long–term advisories more than 12 hours into the future. The advisories may include advisories that are issued by the RSE based on locally collected environmental data (e.g., an ice on bridge advisory).