Interface: ODOT ATMS - ODOT District Offices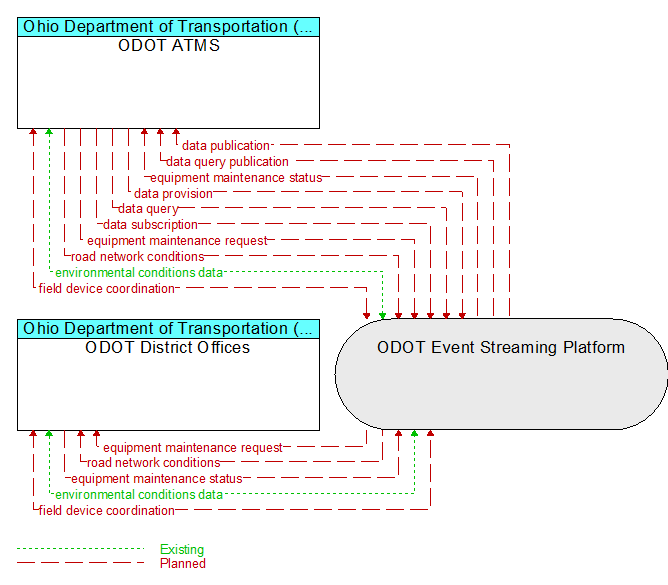 Architecture Flow Definitions
environmental conditions data (Existing) Applicable ITS Standards
Current road conditions (e.g., surface temperature, subsurface temperature, moisture, icing, treatment status) and surface weather conditions (e.g., air temperature, wind speed, precipitation, visibility) as measured and reported by fixed and/or mobile environmental sensors and aggregated by the data collector. Attributes relating to the data collection (and aggregation) are also included.
equipment maintenance request (Planned ) Applicable ITS Standards
Identification of field equipment requiring repair and known information about the associated faults.
equipment maintenance status (Planned ) Applicable ITS Standards
Current status of field equipment maintenance actions.
field device coordination (Planned ) Applicable ITS Standards
Coordination between operating centers that share control of the same field devices. This flow supports coordination to prevent conflicts and allow cooperative management of shared devices.
road network conditions (Planned ) Applicable ITS Standards
Current and forecasted traffic information, road and weather conditions, and other road network status. Either raw data, processed data, or some combination of both may be provided by this flow. Information on diversions and alternate routes, closures, and special traffic restrictions (lane/shoulder use, weight restrictions, width restrictions, HOV requirements) in effect is included.