Interface: ODOT District Offices - ODOT Maintenance and Construction Vehicles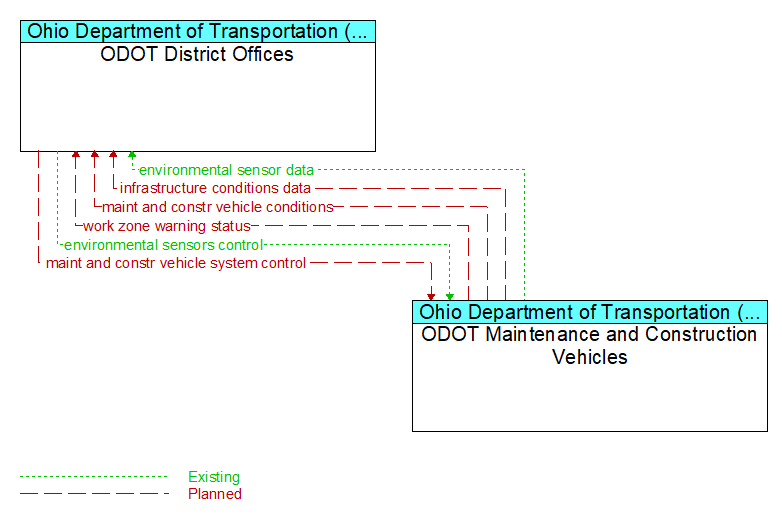 Architecture Flow Definitions
environmental sensor data (Existing) Applicable ITS Standards
Current road conditions (e.g., surface temperature, subsurface temperature, moisture, icing, treatment status) and surface weather conditions (e.g., air temperature, wind speed, precipitation, visibility) as measured and reported by fixed and/or mobile environmental sensors. Operational status of the sensors is also included.
environmental sensors control (Existing) Applicable ITS Standards
Data used to configure and control environmental sensors.
infrastructure conditions data (Planned ) Applicable ITS Standards
Current condition of pavement, bridges, culverts, signs, and other roadway infrastructure as measured by on–board sensors or read from infrastructure–based sensors. The data may include raw data or images (e.g., photo logs) that indicate the current status of the infrastructure.
maint and constr vehicle conditions (Planned ) Applicable ITS Standards
Vehicle diagnostics information that is collected, filtered, and selectively reported by a maintenance and construction vehicle. The information includes engine temperature, mileage, tire wear, brake wear, belt wear, and any warnings or alarms concerning the operational condition of the vehicle and ancillary equipment.
maint and constr vehicle system control (Planned ) Applicable ITS Standards
Configure and control data that supports remote control of on–board maintenance and construction vehicle systems and field equipment that is remotely controlled by the vehicle. For example, the data can be used to adjust material application rates and spread patterns.
work zone warning status (Planned ) Applicable ITS Standards
Status of a work zone safety monitoring and warning devices. This flow documents system activations and includes additional supporting information (e.g., an image) that allows verification of the alarm.