Commute and Telework Options Remain a Focus of MORPC
As the public agency that conducts the transportation planning process for the Columbus urban area, part of the Mid-Ohio Regional Planning Commission's role is to encourage people to take advantage of alternative transportation options, rather than driving alone.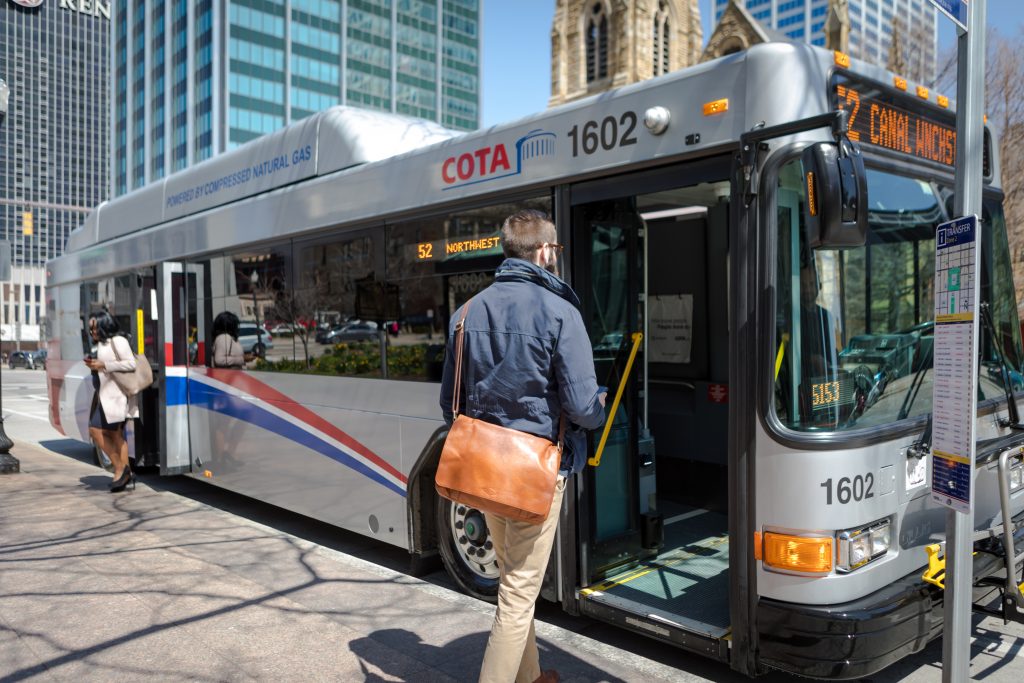 The industry term is Transportation Demand Management, or TDM, and it uses education, outreach, incentives, and programming to encourage and empower the public to use sustainable modes of transportation. TDM initiatives aim to reduce roadway congestion, reduce travel cost, improve air quality, and improve public health.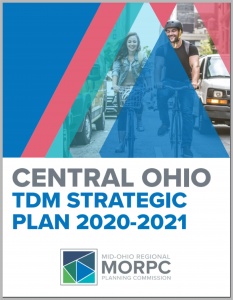 MORPC recently completed its 2020-2021 TDM Strategic Plan, which suggests actions to reduce vehicular demand on the roadway and provides guidance for MORPC and partners to achieve benchmarks listed in the 2020-2050 Metropolitan Transportation Plan.
"TDM is only a small piece of the transportation puzzle, but it's a critical piece toward achieving goals outlined in the MTP. It also allows us to focus on people and their preferences, creating equity, and embracing new innovations for how people get to where they need to go."
Lexi Petrella, MORPC Mobility Coordinator
The strategies of the TDM Strategic Plan include to:
Collect, develop, and maintain data on roadway, transit, bike, and pedestrian conditions, and share information through technology
Collect, develop, maintain, and analyze travel demand data to identify opportunities to provide appropriate mobility options
Collaborate to reduce the need for vehicle travel through development regulations
Educate and market TDM programs to increase use of transit, rideshare, bicycling, and walking
Create TDM partnerships among the facilitators and providers of all modes of transportation, community leaders, and institutions that make up high-density trip generating districts
Make neighborhoods safely walkable, bikeable, and accessible by transit through non-infrastructure projects and programs
Facilitate multi-jurisdictional projects and programs.
In today's world – and especially in light of COVID-19 – one way to reduce travel demand is for more people to take advantage of remote work options. To that end, MORPC also recently released the Central Ohio Employer Telework Policy Guide.
The guide was developed in partnership with Smart Columbus and Columbus GreenSpot to support the long-term transition to telework. Exploring full-time, part-time, and flexible telework scenarios, the guide is intended to help employers understand the benefits and challenges of various schedules of telework and find what makes sense for their organization.
Employers who use the telework guide will be able to take into account a variety of considerations and walk through the internal adoption of a telework policy through a three-step process: internal communication, adoption of a formal policy, and facilitation of employee agreements.
Businesses and residents should also consider taking advantage of MORPC's Gohio Commute program, which equips commuters and companies with resources to help them explore commuting options available in Central Ohio, such as ridematching, emergency ride home service, and incentive campaigns.
Visit the Gohio Commute Mobility Hub website to explore the different ways you can commute and how your ride can improve your health, save you money, and help you be more productive at morpc.gohio.com.