COVID-19 -- What MORPC is Doing
Message from MORPC Executive Director William Murdock: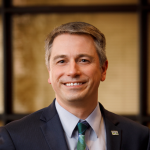 On behalf of our MORPC team, we stand with you during the current community health situation and are here as a resource, service, and good neighbor for you. We know the outbreak has added great pressure on local leaders to make serious decisions under tight time constraints and with limited resources – while also balancing their personal and family needs. Even as MORPC moves to enact our own necessary changes with meetings, our staffing team, and services, please don't hesitate to let us know what more we can do for you and your community.
MORPC is a resource for communities in our region facing these new challenges over the coming weeks and months. Because collaboration is one of Central Ohio's strengths, we are convening conversations with local officials to discuss concerns, best practices, and questions regarding COVID-19 and its impact on community services and operations. 
At the MORPC office, we are doing our part to protect the health and safety of our team and those we work with and serve throughout Central Ohio. As we move ahead in the coming weeks, we want to share our action steps due to increasing concerns regarding the coronavirus (COVID-19) and in accordance with guidance from health professionals. Those updates are below.
I want to express my thanks to everyone for what you're doing for our region's communities as we navigate these unique circumstances. Please let me know if you have any questions or if you need anything.
Be well,
William Murdock, AICP
Executive Director | Mid-Ohio Regional Planning Commission
T: 614.233.4101 | M: 614.465.6446 | wmurdock@morpc.org
111 Liberty Street, Suite 100 | Columbus, OH 43215
As the Mid-Ohio Regional Planning Commission (MORPC) works to support its member communities during the community health situation, local stakeholders should expect limited staff in the office and alternative arrangements for meetings and events.
MORPC has held conversations on the COVID-19 outbreak with officials from communities within MORPC's membership and beyond – cities, counties, villages, townships, and regional organizations in the 15-county region. The Central Ohio COVID-19 Resource Hub has also been created for their benefit at morpc.org/covid19.
To further assist these communities, MORPC is facilitating online forums and updates with the intent to provide supportive and value-add information coordinated with the urgent topics of public health, emergency, and safety. Elected officials and professional staff members wishing to take part in these conversations can contact eleuby@morpc.org for more information.
One of the best ways to keep from transmitting COVID-19 is to minimize the circumstances in which people interact. For everyone's safety and convenience, MORPC is encouraging social distancing by postponing events or through the use of remote technology – especially for those who may be at a higher risk of serious illness.
Here are some highlights of what can be expected from MORPC:
Staff Accessibility
For the time being, most of the MORPC team will be working remotely. Our work schedule remains the same, and staff is available to provide assistance by phone (614.228.2663) and e-mail during regular business hours. You can also submit inquiries through our website.
MORPC is restricting travel of its staff members, so they will not be attending large meetings, conferences, or trainings.
Meetings and Events
MORPC's standard meetings will include remote options, with limited attendance if necessary (to provide a quorum). This includes our Commission and Executive Committee meetings. Committee members and interested parties should watch for specific communications from MORPC through e-mail and on morpc.org. Because MORPC will use Microsoft Teams to facilitate meetings remotely, we encourage committee members to familiarize themselves with how to use it through these instructions.
MORPC will also be providing updated event schedules soon. Here is what we already know:
State of the Region, previously scheduled for April 30, will take place in 2021.
The Ohio Conference on Freight, scheduled for July 9-10, will take place in 2021.
All outside-entity meetings – or other entities using MORPC's spaces – will be canceled or postponed for the time being.
Anyone who has a question or concern regarding a meetings or events is encouraged to contact MORPC if they have not received updated information within a reasonable timeframe.
If you need additional public health information, we encourage you to contact your local health department, or the State of Ohio at coronavirus.ohio.gov or by calling 1-833-4-ASK-ODH.