MORPC Announces Public Information Officer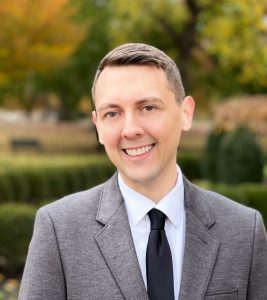 The Mid-Ohio Regional Planning Commission (MORPC) has announced Colin Andrews as its public information officer. In this position, Andrews will be part of MORPC's communications & engagement team and be responsible for overseeing the agency's digital media assets, responding to public inquiries, and proactively seeking opportunities to enhance the visibility and brand of MORPC.
Andrews possesses more than eight years of communications experience in the nonprofit and public sectors spanning public relations strategy, marketing, crisis communications, media relations and digital media management.
"We're pleased to have Colin as a part of the MORPC team," said Executive Director, William Murdock. "His background and experience in digital media strategy and creating and executing innovative marketing campaigns will help amplify MORPC's work for local communities and promote key initiatives and programs for Central Ohio."
As the Public Information Officer, Andrews will be responsible for managing the agency's digital communication platforms, responding to public and media inquiries, and working with the Communications & Engagement team to create targeted marketing campaigns that highlight MORPC's core focus areas.
"This is an exciting time to be joining the MORPC team," Andrews said, "I look forward to working with our outstanding member organizations and the many talented individuals on the team."
Prior his role at MORPC, Andrews served as the Social Media Coordinator/Public Information Specialist at the Ohio Department of Health. In this capacity, he was instrumental in disseminating information about various agency programs to the public using a variety of communication channels. He was responsible for overseeing and executing marketing campaigns. Most recently, he was responsible for providing timely information and developing content to inform audiences about the COVID-19 virus.
Andrews holds a bachelor's degree in journalism with a specialization in public relations from Bowling Green State University.
###
The Mid-Ohio Regional Planning Commission (MORPC) is Central Ohio's regional council with more than 70 members comprised of counties, cities, villages, townships, and regional organizations. We take pride in bringing communities of all sizes and interests together to collaborate on best practices and plan for the future of our growing region.