Air Quality Index (AQI)
The Mid-Ohio Regional Planning Commission issues daily forecasts and Air Quality Alerts to keep the public informed of local air pollution levels.  MORPC uses the Air Quality Index to report pollution levels.  The higher the AQI level, the greater the health concern.  When air pollution is expected to reach 101 AQI or above, MORPC will issue an Air Quality Alert for Central Ohio.
Sign up for Air Quality Alerts here.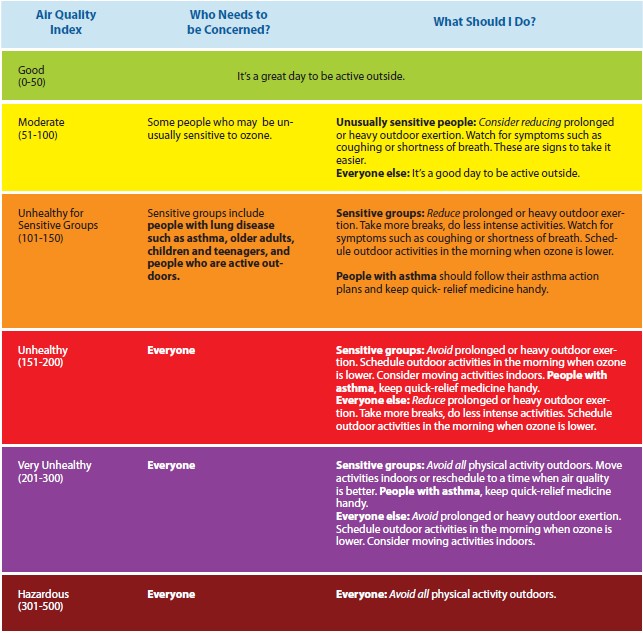 Ozone Pollution
We monitor and send out forecasts and alerts for ground level ozone pollution levels from March through October. Ground-level ozone pollution is created when emissions from sources such as cars, industry and lawn equipment react chemically in the presence of sunshine. Concentrations of ground-level ozone peak when temperatures are warm, it's sunny, and winds are light. Ozone is the main ingredient of smog.  Learn more about ozone pollution.
Who is at risk?
Children
Older adults
People with lung diseases (asthma, chronic bronchitis, emphysema)
People active outdoors
Some healthy people are more sensitive to ozone (possible genetic basis)
Learn more about health impacts from ozone pollution.
Particle Pollution
The Mid-Ohio Regional Planning Commission monitors and sends out forecasts and alerts for particle pollution levels year round.  Fine particle pollution (PM2.5) is made of microscopically small solid or liquid particles.  Some sources of these fine particles are diesel trucks, buses, power plants, and wood burning fireplaces.  Concentrations of PM2.5 often peak during overnight hours when cool air is trapped near the ground and pollution levels build in that layer of air.  Particle pollution can also be transported into central Ohio over large distances, such as from distant wildfires, if weather conditions are right.  Learn more about particle pollution.
Who is at risk?
Children
Older adults
People with heart diseases (heart failure, coronary artery disease, COPD)
People with lung diseases (asthma, chronic bronchitis, emphysema)