The 2020-2050 Metropolitan Transportation Plan includes projections through the year 2050. It was adopted by our Community Advisory Committee, Transportation Advisory Committee, and Transportation Policy Committee in May 2020, becoming effect on July 1, 2020. It was amended in September 2021 through Resolution T-9-21 and September 2022 through Resolution T-9-22.For more information on what a Metropolitan Transportation Plan is, please click here.
2020-2050 MTP Amended on September 8, 2022
To support the development of the proposed Intel site and the resulting regional growth, state and local agencies have committed to advancing area roadway network improvements. The 2020-2050 Metropolitan Transportation Plan was amended by Resolution T-9-22  to incorporate the corridor information resulting from the planned state and local Intel-related investments. More information can be found here. Due to the significance of the changes to the MTP, it is federally required to do an analysis to confirm the projects included in the amended MTP do not lead to violations in the air quality standard or delay obtaining the standard.  This is called a conformity determination. The incorporation of the projects in the amendment into the conformity analysis has been completed. A summary of this analysis is available here. The MTP documents have been updated to reflect the amendment.
More on the MTP
The plan is based on six regional goals. Objectives, performance measures, strategies, and projects have been identified for tracking progress in achieving the goals. The following is a breakdown of the MTP by chapter: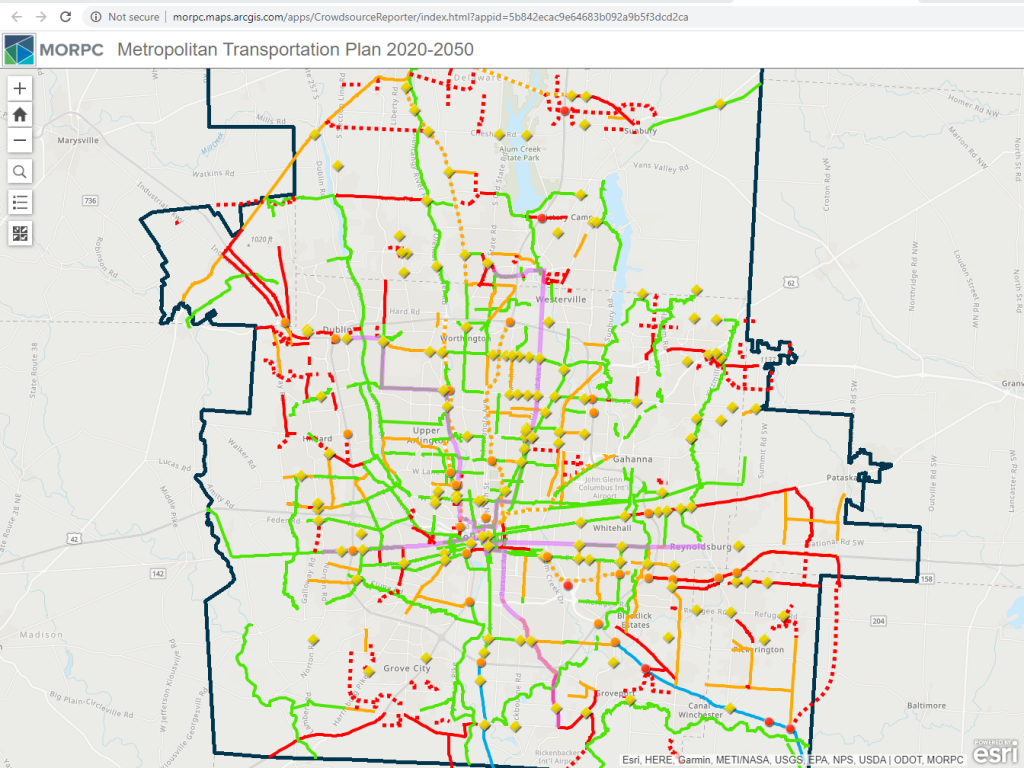 Projects Webmap
We have identified transportation needs and projects located within MORPC's transportation planning area. Various project types are included
Regional Goals
The regional goals will guide the development of the MTP and give direction to investments in the regional transportation system.  These goals represent six broad visions, which will each be measured by objectives, measures, and targets. The goals were adopted by resolution of the MORPC Transportation Policy Committee, with approval of both the Community Advisory Committee and Transportation Advisory Committees on September 13, 2018, following a public comment period.
Through transportation:

The progress of achieving each goal will be measured by several objectives. Two to five objectives have been identified for each goal. Objectives were chosen to measure certain aspects of each goal that can be impacted through transportation or the transportation system, and are based on data availability and measurability. For each objective, the existing condition, or benchmark, is documented and used to establish a short- and long-term target (years 2025 and 2050). The region's progress toward reaching these targets will be reported on annually.