William Murdock, Executive Director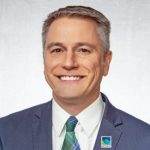 William Murdock serves as executive director of the Mid-Ohio Regional Planning Commission (MORPC). MORPC is Central Ohio's regional council for local governments that provides services, funding, tools, and resources to more than 75 member communities comprised of counties, cities, villages, townships, and regional agencies. As the executive director, Murdock oversees innovative planning, services, and policies in transportation, planning, housing, land use, sustainability, and data.
Working with a board of over 140 local leaders and more than 20 community committees, Murdock reorganized MORPC to sharpen its focus on collaborative partnerships, proactive planning, and local government services. He is responsible for the development of MORPC's long-range transportation plan that coordinates over $20 billion of transportation improvements across the region through 2050. Murdock spearheaded the major regional future scenarios effort known as insight2050 and the recently completed Regional Housing Strategy – both major public/private initiatives to prepare for Central Ohio's significant growth and development – and innovative efforts such as the Smart Region Task Force and Midwest Connect Hyperloop effort.
Murdock also directed the creation of Central Ohio's first regional sustainability and data agendas and strengthened MORPC's advocacy efforts at the state and federal levels.  He prioritizes efforts to build inclusion and diversity into regional work whether rural, urban, or suburban communities and to provide opportunities for young people to enter public service. Prior to joining MORPC, Murdock worked for over 15 years in state and local government in planning and economic development.
Murdock is actively involved in a number of local, state, and national organizations. Notably, he is secretary/treasurer for the Ohio Association of Regional Councils, a governor's appointee to the DriveOhio Government Advisory Board, past president of The Ohio State University Knowlton School Alumni Society, and past chair of the National Association of Regional Councils' (NARC) Executive Directors Council (EDC).
Murdock is a longtime resident of Central Ohio and proud Buckeye with a Bachelor of Science in Economics, Bachelor of Arts in Political Science, Master of City & Regional Planning, and Master of Science in Parks, Recreation & Tourism Administration all from The Ohio State University.