New Albany becomes a silver certified Sustainable2050 member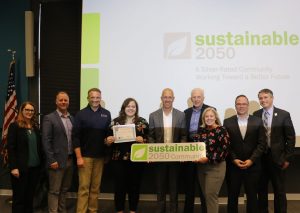 The Mid-Ohio Regional Planning Commission (MORPC) has certified the City of New Albany as the most recent Sustainable2050 community to achieve an elevated status for their actions to promote sustainability.
Sustainable2050 is a program that supports communities' sustainability efforts through direct technical assistance, collaboration, and recognition. Each member's tier status – Bronze, Silver, Gold, or Platinum – is determined by the number of eligible activities corresponding to MORPC's Regional Sustainability Agenda. The goals include:
Improve air quality and reduce climate change impacts to protect public health and the environment.
Protect and preserve natural resources to support a healthy and resilient region.
Improve quality of life for all residents by creating sustainable and equitable communities
Promote robust, inclusive, and sustainable growth and development.
The City of New Albany completed 41 eligible activities across 4 categories, achieving the Silver designation. Highlights from New Albany include:
A solar panel project at the public service garage that will significantly cut electricity costs and annually remove enough carbon dioxide from the air equivalent to planting 2,800 new trees;
A Green Building Incentive Program that reduces building permit fees by up to 25% to encourage sustainable development through practices that reduce energy, waste, and water consumption; and
A municipal food waste composting program that has diverted more than 15,400 pounds of food waste from the landfill since April 2022.
Sustainable2050 members are certified by MORPC's Sustainability Advisory Committee and recognized by the commission's board of representatives.  Currently, 37 local communities and regional organizations have committed to work toward more sustainable practices through the initiative, with 20 earning their tier status certification.
Additional information about Sustainable2050 may be found here.