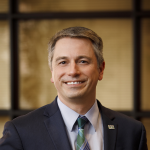 By WILLIAM MUROCK
Published in the Columbus Dispatch
One of my favorite tasks as executive director of the Mid-Ohio Regional Planning Commission is meeting with each of our 75 local government members every year.
These visits allow me to listen to community leaders from rural, suburban and urban communities across the region about local challenges they face and opportunities to improve the quality of life for their residents and businesses.
Our conversations are often about basic but urgent community needs on various topics, including strategies to make broadband access available to everyone, connecting our workforce to public transportation and repairing roads and bridges. These issues remind me of the common challenges we all face and the role government can play in making our communities a better place for all our residents.
It is for these reasons that MORPC enthusiastically supports the bipartisan Infrastructure Investment & Jobs Act that recently passed the U.S. Senate. Although national politics can be polarizing, that is not reflective of the greater central Ohio community as we work together to grow better as we grow bigger. Our leaders in the U.S. Senate reflect this value.
We applaud Sen. Rob Portman for leading this bipartisan effort and Sen. Sherrod Brown for ensuring funding to repair and replace nationally and regionally significant bridges that were included in the bill.
Passage of the Infrastructure Investment & Jobs Act will help address these issues in our region. I strongly encourage lawmakers in the U.S. House to vote in favor of the Infrastructure Investment & Jobs Act. It will impact the prosperity of our communities and the lives of residents for generations to come.
William Murdock, MORPC executive director, Columbus