Event honors community leaders, celebrates accomplishments across the region, and looks towards the future.
Central Ohio's top political, business, and civic leaders gathered at the Mid-Ohio Regional Planning Commission's (MORPC) annual State of the Region event. The event held earlier today highlighted key community's accomplishments, celebrated leaders across the region and focused on creating a path forward for the future.
Held at the Greater Columbus Convention Center, this was the first in-person State of the Region since 2019. The event brought many leaders, collaborators, and friends together for the first time in two years.
This year's theme, From Possibility to Reality, showcased MORPC's vision for the region's future, highlighted the endless possibilities that could be, and the exciting realities that are fast approaching.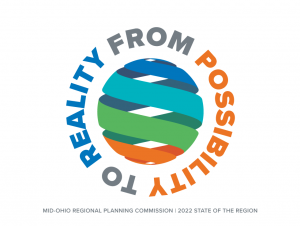 MORPC welcomed keynote speaker Andy Berke, Special Representative for Broadband for the National Telecommunications and Information Administration and former mayor of Chattanooga, Tennessee.
During his keynote, Berke spoke about his role at the National Telecommunications and Information Administration where he works to help states and territories connect, prepare, and take advantage of an influx of $48 billion in new federal funds from the Infrastructure Investment and Jobs Act to help make broadband more accessible and affordable to underserved communities.
At the event, special honors were presented to three recipients as MORPC bestowed the William C. Habig Collaborative Achievement Award; the William H. Anderson Excellence in Public Service Award; and the Regional Leadership Award.
The William C. Habig Collaborative Achievement Award honors individuals or organizations that have achieved an e­ffective eff­ort or innovative collaborative project in Central Ohio. This year's award was presented to Downtown Bellefontaine Redevelopment & Small Nation.
Across the country, many small towns with once flourishing economies have experienced a decline. As a passionate believer in the ability to revitalize local communities through concerted efforts to support and sustain entrepreneurs, rehabilitate former commercial buildings, and incorporate the expansion of unique new age housing/workspace centers, Small Nation CEO, Jason Duff, has inspired small towns to reinvent themselves.
Most notable among their success stories is the restoration of the City of Bellefontaine. This public-private partnership between Small Nation and Downtown Bellefontaine Redevelopment led to the repurposing of abandoned spaces through city-led enforcement of zoning/property management codes, the installation of new extraordinary inspirational workspaces to attract the creative class of innovative entrepreneurs, and a wide range of unique support services to help these young businesses thrive.
Small Nation develops places, spaces, and dreams for small towns and small-town entrepreneurs to flourish.
The city welcomed private investment and augmented these efforts by expanding designated outside restaurant areas in public spaces, adding benches and picnic areas, and improving the pedestrian experience. These efforts demonstrated that small towns could reinvent themselves through their collective efforts to help each other thrive.
The William H. Anderson Excellence in Public Service Award recognizes a MORPC board member who exemplifies outstanding leadership. This year, the award was presented to Joe Stefanov, City Manager for the City of New Albany, Ohio.
Since 2008, City Manager Stefanov has faithfully served on the MORPC Executive Board. During his tenure at MORPC, he has held significant leadership roles as the Chair of both the Reserve and Investment Advisory Committee and Building Committee, and has participated in numerous strategic planning activities to review and establish the agency's priorities to advance the region.
Having served as City Manager for New Albany since 2000, Stefanov led the city through an extraordinary period of residential and commercial growth, including the development of a 5,000-acre International Business Park that provides employment for thousands of area residents throughout Central Ohio. He is widely respected among his peers for his calm demeanor and ability to work in a collaborative manner with public and private partners to achieve positive success for the greater community.
As he enters the final chapter of his public service, Stefanov continues to be an instrumental part of the region's success, including as an integral member of the team that landed the largest investment in the Ohio's history – the upcoming Intel manufacturing site located in New Albany. City Manager Stefanov epitomizes a humble leader who possesses integrity, a deep passion for public service, and the wisdom to cultivate a great team.
The Regional Leadership Award honors extraordinary efforts to ensure the future viability of the region's communities. This award was presented to Jennifer Gallagher, Director of the City of Columbus Department of Public Service.
Gallagher has a long history of public service. She was instrumental in the city winning the Smart City Challenge and is currently spearheading two critical mobility initiatives for the City of Columbus that will change the entire region: building a coalition to promote the LinkUS Mobility Initiative that will provide a complete mobility system along key regional corridors in Central Ohio; and working diligently to eliminate traffic fatalities through Vision Zero Columbus.
Director Gallagher has approached the rapid growth of the Central Ohio region through a lens of equity. Recognizing the importance of high-capacity rapid transit, Gallagher has dedicated Department of Public Service resources to moving the LinkUS Mobility Initiative forward from conception to implementation. Once completed, this initiative will bring more opportunities for mobility to everyone in the region.
Under Gallagher's leadership, Columbus has become one of the early adopters of Vision Zero in the Midwest. This transformational initiative reimagines traffic management to make safety as the number one priority on our city street network, above moving cars as quickly as possible. Launched in the days leading up to the pandemic, Vision Zero Columbus has fundamentally changed the way we prioritize transportation projects.
The 2022 State of the Region will be available to view at a later date at morpc.org/sotr. To learn more about MORPC visit www.morpc.org.