The 2020 – 2050 Active Transportation Plan (ATP) advances the regional priorities of the Metropolitan Transportation Plan and helps communities within the Metropolitan Planning Organization area plan for and implement projects that include pedestrian, bicycle, and transit infrastructure in the region.
Central Ohio continues to grow at unprecedented rates. As the region's population becomes larger and more diverse, more people will rely on walking and bicycling for transportation. Today, most people rely on cars to get to and from their destinations. But by designing the region's roadways to be safer and more comfortable for all users, Central Ohio has an opportunity to accommodate its growing population with more and better mobility options.
2020-2050 Active Transportation Plan (ATP)
The ATP was updated under the guidance of a 25-member steering committee and the Active Transportation Committee to align with and support the 2021 MORPC Complete Streets policy. The ATP offers design guidance and resources to ensure all users, regardless of mode of travel, have a safer and more comfortable way to reach their destination.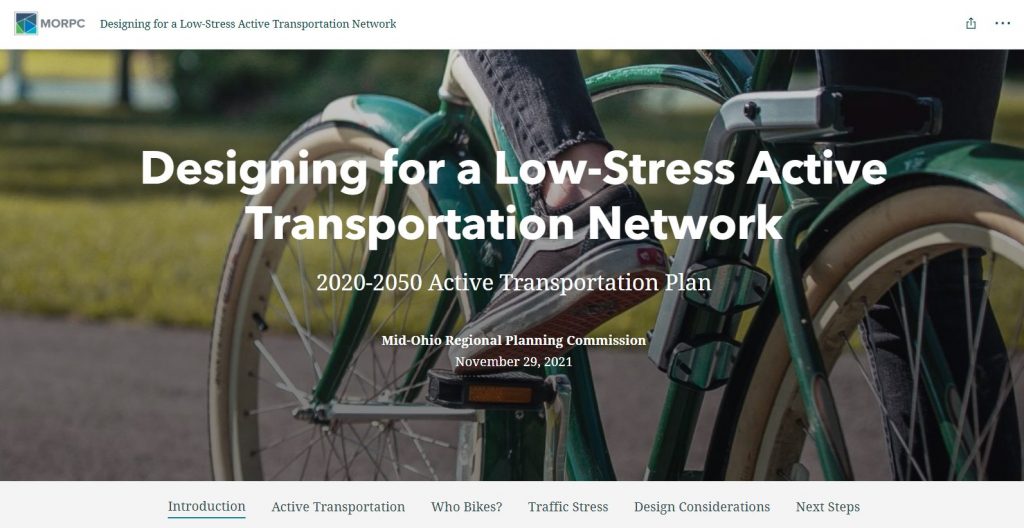 ATP Story Map
Unlike traditional plans, the ATP is a collection of web-based tools and resources. The story map provides all of the important background information and details on how to use the ATP. It includes additional information for practitioners to assist with decision-making for roadway design projects.
ATP Vision & Goals
Vision Statement
Central Ohio will implement and maintain an equitable network of active transportation infrastructure that ensures the regional transportation system supports and accommodates mobility for all users, inclusive of all ages and abilities, while advancing the regional priorities established in the Metropolitan Transportation Plan.  
Goals

Tools & Resources