Officials from the City of Lancaster, regional, and state officials gathered streetside in downtown Lancaster on South Broad Street to unveil the new "Southern Gateway" project on Tuesday, October 18. The project is aimed at improving accessibility and mobility in downtown Lancaster and introduces reverse-angle parking to residents to improve safety.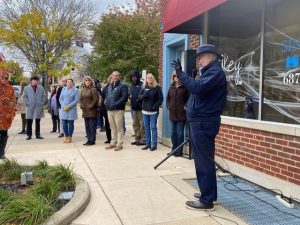 The downtown project encompasses resurfacing to add a bike lane, accommodate safer parking, and repair sidewalks for ADA compliance. Additionally, the project brings a new type of parking configuration to the corridor − reverse angle parking − and active transportation infrastructure. Sidewalk improvements and curb-cut changes will improve access for those with disabilities, a welcome addition as the headquarters of the Southeast Ohio Center for Independent Living is in the area.
Through an innovative funding process, the City was able to tap funds from the Central Ohio Rural Planning Organization (CORPO) through the Mid-Ohio Regional Planning Commission (MORPC), Ohio Public Works Commission (OPWC) funds through the Ohio Department of Transportation (ODOT), and Community Block Development Grants (CBDG) through Housing and Urban Development, in addition to local funds, to create the improvements.
Speakers included Mayor David Scheffler, Engineer Curt Shonk, and Lynda Berge Disser, Community Development Director, of City of Lancaster; Nick Gill, MORPC; Jason Sturgeon, P.E., District Deputy Director, ODOT, District 5; Amanda Everitt, Destination Downtown Lancaster, and South Broad Street business leaders.
To learn more about CORPO, visit us online.