MORPC Announces Diversity, Inclusion & Engagement Officer
Ralonda Hampton Joins MORPC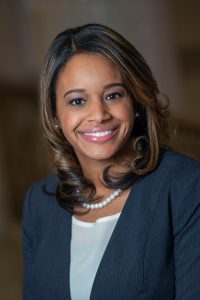 The Mid-Ohio Regional Planning Commission (MORPC) has announced Ralonda Hampton as its diversity, inclusion & engagement officer. In this position, Hampton will be part of MORPC's communications & engagement team and be responsible for the agency's diversity and inclusion programs and initiatives.
Hampton has more than 13 years of experience in the public and private sectors spanning human resources, diversity, inclusion and community engagement. She is accustomed to facilitating critical conversations and solving complex issues while interacting with constituents, elected officials, business leaders, area commissions and community organizations.
"Ralonda has a wonderful mix of experience and will be a great addition to our MORPC team. Her hiring signifies our renewed commitment to diversity and inclusion and will help ensure that, as the region's population grows and changes, MORPC will be responsive to the change and welcoming to everyone in Central Ohio."
MORPC Executive Director William Murdock
In her new, public-facing position, Hampton will develop, conduct and review MORPC's outreach, engagement and communication strategies to ensure compliance with branding, public involvement and diversity policies and efforts. She will also work on the agency's diversity plan and assist with implementing public relations strategies that reflect MORPC's commitment to diversity and inclusion.
"I'm honored to join MORPC during such a pivotal time, and I'm committed to ensuring we address the changing needs of Central Ohio's growing diverse population. My new role is especially exciting because it provides me with the opportunity to continue serving my hometown of Columbus, along with the broader region."
MORPC Diversity, Inclusion & Engagement Officer Ralonda Hampton
Prior to her role at MORPC, Hampton served as a legislative aide to Columbus City Councilmember Jaiza Page. At council, she worked on diversity and inclusion, small and minority business, economic development, housing, and recreation and parks initiatives. She also worked at the City of Columbus Department of Public Utilities, and she began her career in public service at the Ohio Treasurer of State's Office.
Hampton was pivotal in creating the Workforce Development and Civic Engagement summer job program, Leaders in Education to Advance a Diverse Columbus (LEAD-US). LEAD-US, was created to provide internship opportunities to Columbus youth, while putting an emphasis on diversity, community service and providing professional development skills. Hampton will also assist with MORPC's internship program, which encourages young leaders to pursue a career in government.
Hampton holds a bachelor's degree in business administration from Kentucky State University and resides in Columbus with her husband, Kenneth, and their two children.