MORPC Launches Update to Paving the Way System
Residents can sign up for road construction notifications
The Mid-Ohio Regional Planning Commission (MORPC) has modernized the Paving the Way road construction information system, which will now have more comprehensive project information and allow residents to select their preferences in the notifications they receive.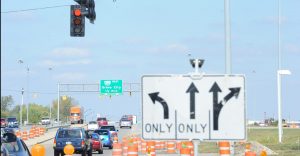 Paving the Way is a program created to communicate road construction and closure information and alleviate traffic congestion for Central Ohio residents and businesses. It has existed since 1990 in various capacities to monitor the status of projects regardless of the jurisdiction or agency implementing them.
Housed within MORPC since 2017, the new system at PavingTheWay.org is allowing for better coordination as a region. Residents can receive automatic e-mail and text notifications when road construction projects and closures are taking place by subscribing on the website.
"We've worked to make the entire system more efficient, which also allows us to expand it to more communities and agencies in Central Ohio. By partnering with local governments to input and maintain project information, we're collecting more data that can be used for the region's benefit."
Aaron Schill, MORPC Director of Data & Mapping
Information on projects and closures is pre-loaded into the system, and residents can be made aware of the start and end of the work – along with details and mapping of the closures. When signing up, they have the option of selecting the jurisdictions or ZIP codes for which they wish to receive information, as well as a few other preferences.
"With so many people working from home during the COVID-19 pandemic, fewer people have been affected by road construction. But as we return to our regular commutes, access to project information can help us avoid traffic congestion, and improve safety and air quality."
Thea Ewing, MORPC Director of Transportation & Infrastructure Development
The Paving the Way system is designed to be quick and easy to use, and its purpose cannot be achieved without the inclusion of planned projects and closures provided by governments and contractors.
MORPC expects more governments to take advantage of the system over time. Residents are also encouraged to continue using the Ohio Department of Transportation's OHGO app for real-time traffic information.