Online Dashboard Helps Track Region's Sustainability Efforts
Central Ohio can now take advantage of an interactive, online dashboard that provides complete, accurate, and up-to-date information on the region's sustainability accomplishments.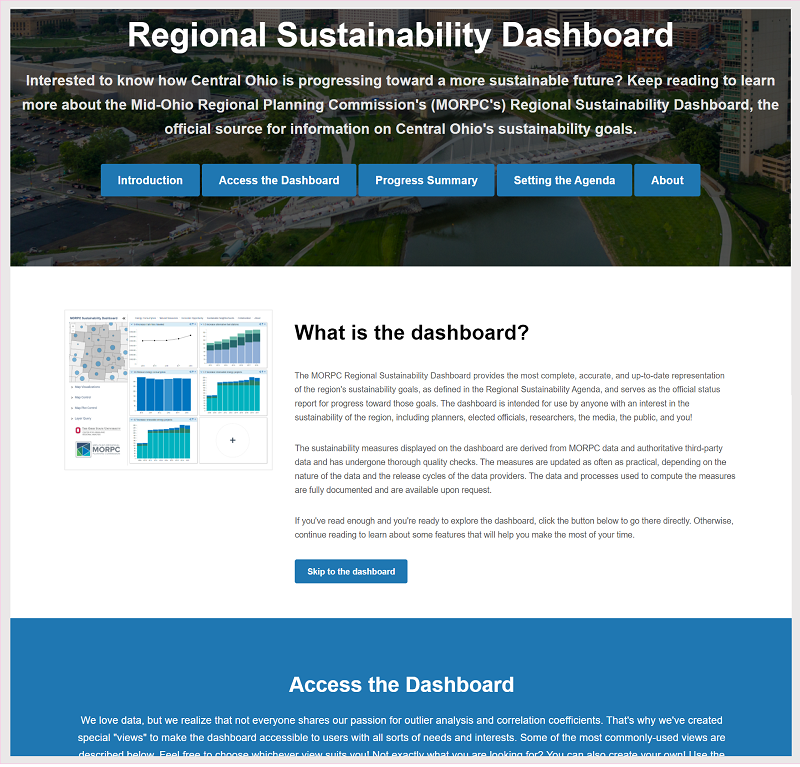 The Mid-Ohio Regional Planning Commission (MORPC) and The Ohio State University Center for Urban and Regional Analysis (CURA) worked in partnership – under the guidance of a working group – to create the new Regional Sustainability Dashboard.
As Central Ohio's regional council for nearly 75 members comprised of counties, cities, villages, townships, and regional organizations, MORPC brings communities of all sizes and interests together to collaborate on best practices in sustainability and plan for the future of the growing 15-county region.
To further guide that work, the region's Regional Sustainability Agenda sets in motion MORPC's sustainability-focused programming and committees and provides the framework for communities and regional partners to work toward common goals.
The Regional Sustainability Dashboard serves as the official status report for Central Ohio's progress. It was created out of the need for greater access to data and information in order to shed light on the impacts of collective sustainability efforts across the region.
"CURA is the hub for data-driven urban science at The Ohio State University. We partner with community stakeholders to support progress on the challenges and opportunities facing cities in Ohio, and beyond. With this project, our community is taking a big step towards building the data resources needed to improve understanding of the paths to sustainability in Central Ohio."
Dr. Harvey Miller, CURA Director
The dashboard is useful for community advocates, sustainability professionals, elected officials, tech enthusiasts, and local residents. Those who prefer the 10,000-foot view will find an introduction to the dashboard on the landing page, background on the Regional Sustainability Agenda, and progress at a glance to find out whether or not the region is trending in a positive direction on any given objective.
The dashboard helps measure actions that have contributed toward five broad goals, or categories:
Energy Consumption – How Central Ohio can conserve energy by reducing our energy use, take advantage of renewables, and use alternative transportation modes.
Natural Resources – How Central Ohio can protect our environment, air quality, and water.
Economic Opportunity – How Central Ohio businesses can take advantage of sustainable practices to be more competitive.
Sustainable Neighborhoods – How Central Ohio can put in place infrastructure and services that improve the quality of life for residents and make their everyday lives healthier and safer.
Collaboration – How Central Ohio can build more partnerships, educate people on sustainable practices, and be more committed to its future.
"The dashboard is a significant resource for understanding the progress we are making as a region and where we can improve in our sustainability efforts. This tool will empower our local governments, the media, and community members to explore sustainability, and drive changes that improve the lives of our residents and the environment."
Brandi Whetstone, MORPC Sustainability Officer
The dashboard provides interactive visualizations representing metrics and targets, and a map to display county-level data, where available. For those with specific interests, users can customize their view and share information with others via email or social media.
The Regional Sustainability Dashboard can be accessed at rsd.morpc.org. It will be regularly updated as more data and information on the region's progress becomes available.